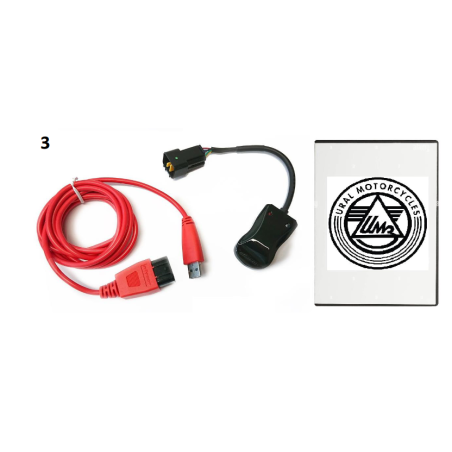  
EFI Diagnostic Tool from 2019 Diagnostic cable + Bluetooth adapter
EFI Diagnostic Tool from 2019 Diagnostic cable + Bluetooth adapter
Order safely
All pages are SSL-encrypted
Let or pick up the delivery
We ship with DPD
Return
Can be returned within 30 days
EFI Diagnostic Tool from 2019 Diagnostic cable + Bluetooth adapter
Tool set for fault diagnosis and monitoring of engine parameters for Gen 2 EFI Urals. Works for model years 2019 - 2023. Includes USB diagnostic cable, CD/R with diagnostic software and Bluetooth adapter. Allows PC, MAC, Android and IOS connection.
Identify fault codes and monitor engine parameters for 2019 and newer Gen 2 EFI URAL models. Contains USB Diagnostic Cable, Bluetooth Connection Dongle, and USB Flash Drive with Diagnostic Software. 
PC application is designed for Windows 7 and higher.
Free "URAL Motorcycles OBD" Smartphone APP can be downloaded in your app store for IOS and Android.

*Does not allow synchronisation of the throttle bodies. (Please use item no. 47481 Carbtune Pro).
Currently no customer comments
Customers who bought this item also bought ...
16 other items in the same category: