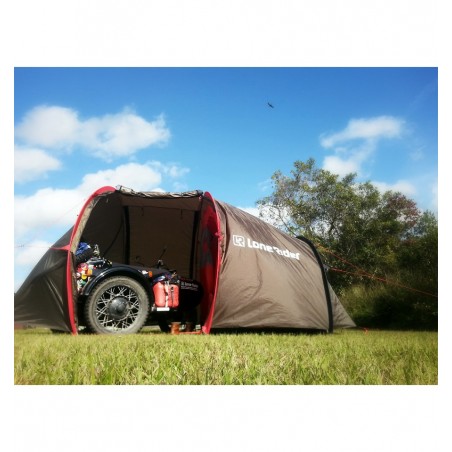  
Lone Rider Ural Tent
Lone Rider Ural Tent
Order safely
All pages are SSL-encrypted
Let or pick up the delivery
We ship with DPD
Return
Can be returned within 30 days
Lone Rider Ural Tent
This tent is designed to shelter one Ural sidecar and two riders and their gear. It can also carry one adventure motorcycle with panniers and two riders. The storage space offers space to relax, cook or to carry out small repairs.
The tent also offers a large sleeping area with enough space for 2 people and their equipment.
Specifications:
Tent poles material: Aeronautical-tested aluminium 7001-T6
Inner tent material: Breathable material, fire protection according to CPA184
Outdoor tent material: Ultra light, UV-resistant, crack- and fire-resistant material according to CPA184, 10 000mm waterproof coating, 210T polyester
Soil material: Lightweight, crack- and fire-resistant, 10 000 mm waterproof 190T nylon
Instructions for use: Lightweight, crack- and fire-resistant, waterproof 210T polyester
Pack size: 60x20 cm
Weight: 5.44 kg
Herrings: Aeronautical-tested aluminium 7001-T6
Functions:
Weight: The good workmanship and high-quality materials mean that the tear-resistant tunnel tent weighs just 5.44 kg. Thus, the MOTOTENT is the lightest motorcycle tent on the market.
Simple and fast setup: Due to a design system marked by colours, the tent is easy to set up in any weather conditions.
Plenty of space: The 1.9 m. high tent with its large entrances is also suitable for long motorcycle trips.
Storage of equipment: Large front room and sleeping space allow maximum flexibility and usability. There is also plenty of space to store the equipment and space to do work on your motorcycle.
Water impermeable: Water-impermeable zippers and exceptional hydrostatic load capacity keep you dry even in the rain.
Practical: The outdoor tent can be used as a large garage for repair work.
Developed by Bikers for Bikers: The whole tent has been specially developed for motorcyclists, from the reflective bands on the carrying bag to the small and easily transportable dimensions of the tent.
Additional features: • Two (2) TPU allow you a view even in bad weather, three (3) raised grid windows for minimal condensation, four (4) built-in mesh pockets, two (2) built-in coat hooks. The whole tent corresponds to the califonic fire protection standard CPAI 84. Thanks to the UV protection, the tent can be used for several years and many trips. 19 light metal herrings made of material that is also processed in aircraft construction also guarantee the highest stability.
Currently no customer comments
Customers who bought this item also bought ...
16 other items in the same category: