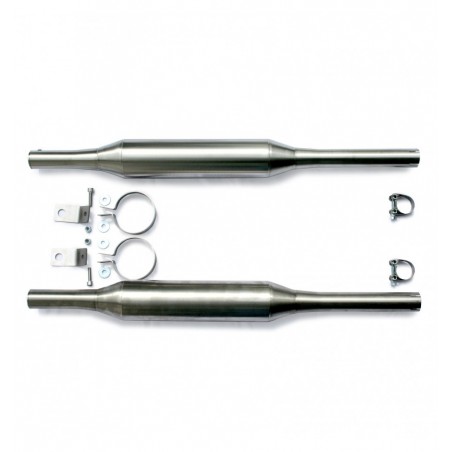  
Exhaust 2in2 Slip On Stainless Steel
Exhaust 2in2 Slip On Stainless Steel
Order safely
All pages are SSL-encrypted
Let or pick up the delivery
We ship with DPD
Return
Can be returned within 30 days
Exhaust 2in2 Slip On Stainless Steel
This valuable exhaust system is manufactured by GPR in Italy and consists of 2 silencers (black ceramic coated) and clamps at the front and rear and is mounted according to the original catalyst.
It fits all models. The pipe diameter is 36 mm inside. It therefore also fits on the curvatures of older models.
For the younger models with a manifold diameter of 35 mm, 2 seals are required (item no. 5035 reducing sleeve for manifolds from 36 to 35 mm). These are automatically included in the set of ID 6634.
Important note:
This exhaust system does not have an EC-BE or a TÜV certificate!
It / It is intended for classic cars, collectors, show bikes or for competition. Use is not permitted within the scope of the German StVZO.
Currently no customer comments
Customers who bought this item also bought ...
16 other items in the same category: