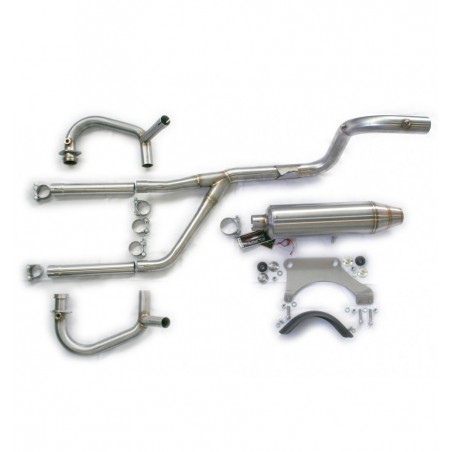  
Exhaust system 2in1 stainless steel without cat
Exhaust system 2in1 stainless steel without cat
Order safely
All pages are SSL-encrypted
Let or pick up the delivery
We ship with DPD
Return
Can be returned within 30 days
Exhaust system 2in1 stainless steel without cat
This exhaust system was developed by GPR in Italy for Urals.
Fits the Ural models cT, Classic, Tourist, T TWD, Sportsman, Ranger from year 2016.
WITHOUT catalyst

Only intended for the off-road area and unfortunately has no approval. However, the plant is not noisy at all.
A removable DB Killer is installed in the end pot.

The difference in weight of the 1in1 system to the Russian Original 2in2 exhaust system is sensational.
The GPR plant weighs 6.92 kg, the Russian plant at 13.20 kg twice as much.

The exhaust is mounted on the right side of the motorcycle, between the motorcycle and the sidecar.
Currently no customer comments
Customers who bought this item also bought ...
16 other items in the same category: