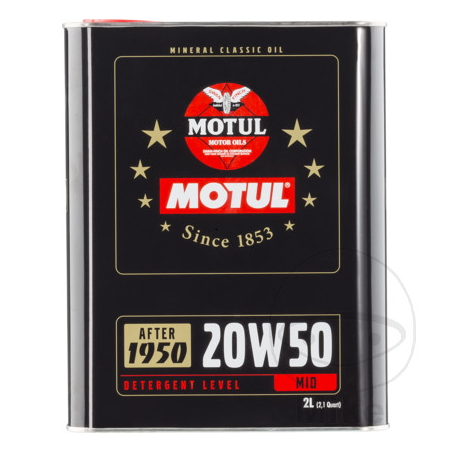  
Engine Oil Motul Classic 20W50 5l
Engine Oil Motul Classic 20W50 5l
Order safely
All pages are SSL-encrypted
Let or pick up the delivery
We ship with DPD
Return
Can be returned within 30 days
Engine Oil Motul Classic 20W50 5 liters
MOTUL CLASSIC OIL SAE 20W50 is a very high quality mildly alloyed mineral multigrade engine oil, specially formulated for year-round use in classic cars built from 1950 onwards. Also suitable for older motorcycles.
 SPECIFICATIONS/STANDARDS:
STANDARDS: API SF / CC
 USE INSTRUCTIONS:
MOTUL Classic Oil SAE 20W50 meets the requirements of manufacturers from this period and offers the technological advantages of MOTUL lubricants:

- Excellent lubrication, perfect corrosion protection.
- Stable oil pressure as well as optimal compression.
- Low oil consumption, reduced oil loss due to SAE 20W50 viscosity.
- High warm viscosity guarantees optimum wear protection even under extreme driving conditions.
- Compatible with all seals and bearing metals (bronze, copper or brass).
- Excellent adhesion provides optimum protection even during prolonged downtime.
 RECOMMENDATION:
Oil change should be performed according to the manufacturer's instructions, at least once a year before winterization. In case of frequent use or use in vintage races, we recommend shortening the change interval.

PROPERTIES:
Viscosity SAE J 300 20W50
Density at 20°C ASTM D 1298 0.885
Viscosity at 100°C ASTM D 445 18.0 mm²/s
Viscosity at 40°C ASTM D 445 164.4 mm²/s
Viscosity index ASTM D 2270 121
Pour point ASTM D 97 -24°C
Flash point ASTM D 92 244°C
TBN ASTM D 2896 8.0 mg KOH/g
Currently no customer comments
16 other items in the same category: