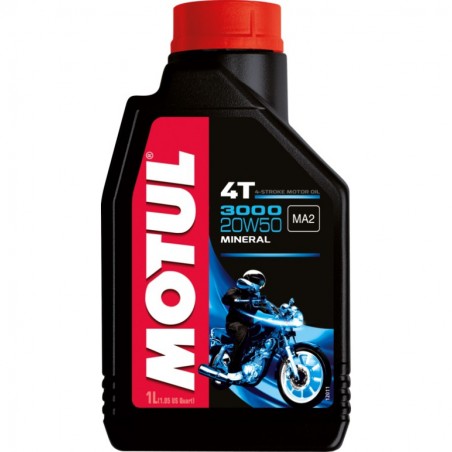  
Engine Oil Motul 3000 4T 20W50
Engine Oil Motul 3000 4T 20W50
Order safely
All pages are SSL-encrypted
Let or pick up the delivery
We ship with DPD
Return
Can be returned within 30 days
Engine Oil Motul 3000 4T 20W50
MOTUL 3000 4T is a 4-stroke multigrade engine oil for motorcycles, which according to the manufacturer's recommendation should use high-quality mineral oil-based engine oils. Specially developed oil with adapted additives for the transmission. Usable for motorcycles in normal everyday use.
SPECIFICATIONS/STANDARDS:
STANDARDS: API SL / SJ / SH / SG
RELEASES: JASO MA2 N° M033MOT109, exceeds the requirements of Harley-Davidson®.
JASO (Japanese Automobile Standards Organization) has developed its own standard for 4-stroke motorcycle engine oils, JASO T 903. The gradations MA, MA1 and MA2 facilitate the selection of motorcycle engine oils specifically designed for wet clutches. JASO MA2 stands for the highest friction values and thus for optimum clutch compatibility during gear changes, during the acceleration phase and also at consistently high speeds.
 ADVANTAGES:
- Can be used all year round.
- Optimized content of sulfur and phosphorus ensure long-term functioning of catalytic converters.
- High wear and corrosion protection.
- Low oil consumption tendency.

RECOMMENDATIONS AND NOTES:
Change interval according to vehicle manufacturer's specifications or adjusted according to operating conditions. Before use, it is essential to observe the manufacturer's service documents and recommendations.

PROPERTIES:
Color (visual) brownish
Viscosity SAE J 300 20W-50
Density at 20°C ASTM D 1298 0.883
Viscosity at 100°C ASTM D 445 19.6 mm²/s
Viscosityt at 40°C ASTM D 445 176,4 mm²/s
Viscosity index ASTM D 2270 128
Pour point ASTM D 97 -27°C
Flash point ASTM D 92 240°C
TBN ASTM D 2896 6,2 mg KOH/g
Currently no customer comments
Customers who bought this item also bought ...
16 other items in the same category: