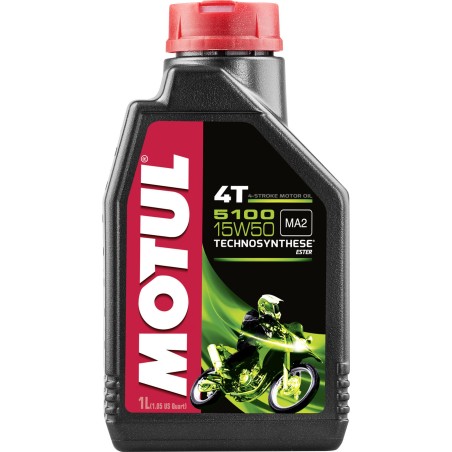  
Engine Oil Motul 5100 15W50 1 l
Engine Oil Motul 5100 15W50 1 l
Order safely
All pages are SSL-encrypted
Let or pick up the delivery
We ship with DPD
Return
Can be returned within 30 days
Engine Oil Motul 5100 15W50 1 l SEMI-SYNT
MOTUL 5100 4T 15W50 is a 4-stroke multigrade oil for demanding motorcycle engines based on MOTUL- Technosynthesis? with high-quality ester components and special additives for gear lubrication. Exceeds the requirements of motorcycle manufacturers, e.g. BMW, which prescribe the viscosity SAE 15W-50 for certain models. For high performance bikes, sport bikes, street bikes, trail bikes, off road bikes, enduro, trial, quad, scooter, etc. with 4-stroke engines with or without integrated gearbox, wet or dry clutch. Also for engines that meet Euro-2 or Euro-3 requirements.

SPECIFICATIONS/STANDARDS:
STANDARDS: API SM / SL / SJ / SH / SG
FZG damage load level = 14FLS
RELEASES: JASO MA2 N° M033MOT114

JASO (Japanese Automobile Standards Organization) has developed its own standard for 4-stroke motorcycle engine oils in the form of JASO T 903. The gradations MA, MA1 and MA2 facilitate the selection of motorcycle engine oils specifically designed for wet clutches. JASO MA2 stands for the highest friction values and thus for optimum clutch compatibility during gear changes, during the acceleration phase and also at consistently high speeds.

ADVANTAGES:
- Ester components, in combination with the additive package, improve shear strength, wear protection and engine and transmission life. This is documented with the outstanding FZG (Forschungsstelle für Zahnräder und Getriebebau) test result of damage load stage =14 FLS (Failure Load Stage). The smaller the value e.g. 1 FLS the lower the wear protection, the higher the value e.g. >14 FLS the better the wear protection of the gearbox. This test can be used to determine whether an adequate lubricant film thickness between the gears ensures reliable operation of the gear unit.
- Optimized content of sulfur and phosphorus ensure long-term functioning of catalytic converters.
- Prevents corrosion and contamination in the engine.
- For modern engine technology with wet clutch and transmission lubrication in the same oil bath. No clutch sticking and slipping.
- Viscosity 15W50 compensates for the entry of unburned fuel and allows smooth shifting at high operating temperatures.
 
RECOMMENDATIONS AND NOTES:
Change interval according to vehicle manufacturer's specifications or adjusted according to operating conditions. Before use, be sure to observe the manufacturer's service documents and recommendations!
 
PROPERTIES:
Color (visual) brownish
Viscosity SAE J 300 15W-50
Density at 20°C ASTM D 1298 0,877
Viscosity at 100°C ASTM D 445 18,3 mm²/s
Viscosityt at 40°C ASTM D 445 138,7 mm²/s
Viscosity index ASTM D 2270 148
Pour point ASTM D 97 -30°C
Flash point ASTM D 92 232°C
TBN ASTM D 2896 7,5 mg KOH/g
Currently no customer comments
Customers who bought this item also bought ...
16 other items in the same category: